---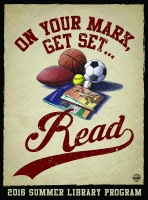 The 2016 summer reading theme, "On Your Mark, Get Set . . . Read!" encourages children of all ages to exercise their minds and bodies. Kids can go for reading gold with one of our book challenges. Programs for tots, preschoolers, readers, and teens run from May 31 through August 13. Stop in at the library to join the reading team. Kids who complete their reading challenges by August 13 will be rewarded with a special "Congratulations" packet that includes small toys and tickets and coupons for local attractions.
Our young champions can also enjoy our popular Terrific Tuesday series, storytimes, and special events. Favorite monthly programs including Pop In and Play, Lego Club, and Wednesday Art Cart will continue during the summer months. Art Cart will start an hour earlier at 2:30 p.m..  Tweens can also look forward to Tinker Lab and Tweensdays. Teens can "Get in the Game" with their own reading challenges and special events. Check out the Summer Events page or Events Calendar for more information.
We also have plenty of family fun on deck. Our Wednesday Family Nights include a Yoga Story time and Family Zumba. Stone Soup Shakespeare returns June 4 at 6:00 p.m. with a family friendly version of "Comedy of Errors." Pack a picnic, bring your own blanket or chairs, and enjoy the free show.
Summer also means our favorite bookworm/caterpillar is out and about. If you've been wondering "Where's Leo?", you can soon find out. This summer, our mascot is on a fitness quest. That's right – Leo is determined to whittle his middle – all four of them.  You will find him where the action (and exercise) is in Shorewood. Follow his progress through our website and enter a drawing to win great gift cards for popular Shorewood businesses.
MARK YOUR CALENDAR!!! The annual Summer Celebration will be held THURSDAY JULY 21, 6 -  8 p.m. Join us for the party of the summer. Enjoy free trolley car rides, great music, games, and Culvers' sundaes. Meet the Milwaukee Brewers' Famous Racing Sausages.
Share This: