---
At the library, we spend a lot of our time thinking about how to make things work better for you, our patrons. While it might seem like many things stay the same, we're actually changing a lot - almost constantly! Most of the change happens behind the scenes, but sometimes you can see and feel it.
A few recent changes we think you'll notice:
New flexible computer time
We've recently moved to a model that MPL has tested and found to work well: "Flex Time" on all our public PCs. Mostly, your daily use limit of two  hours remains the same, but we've now given the computers the option of extending your session time to three hours as long as about 20% of the computers are available for others. 
We hope this makes a  positive difference for those times when you really need the extra hour! Please let us know how it works for you.
Moving shelves - and whole collections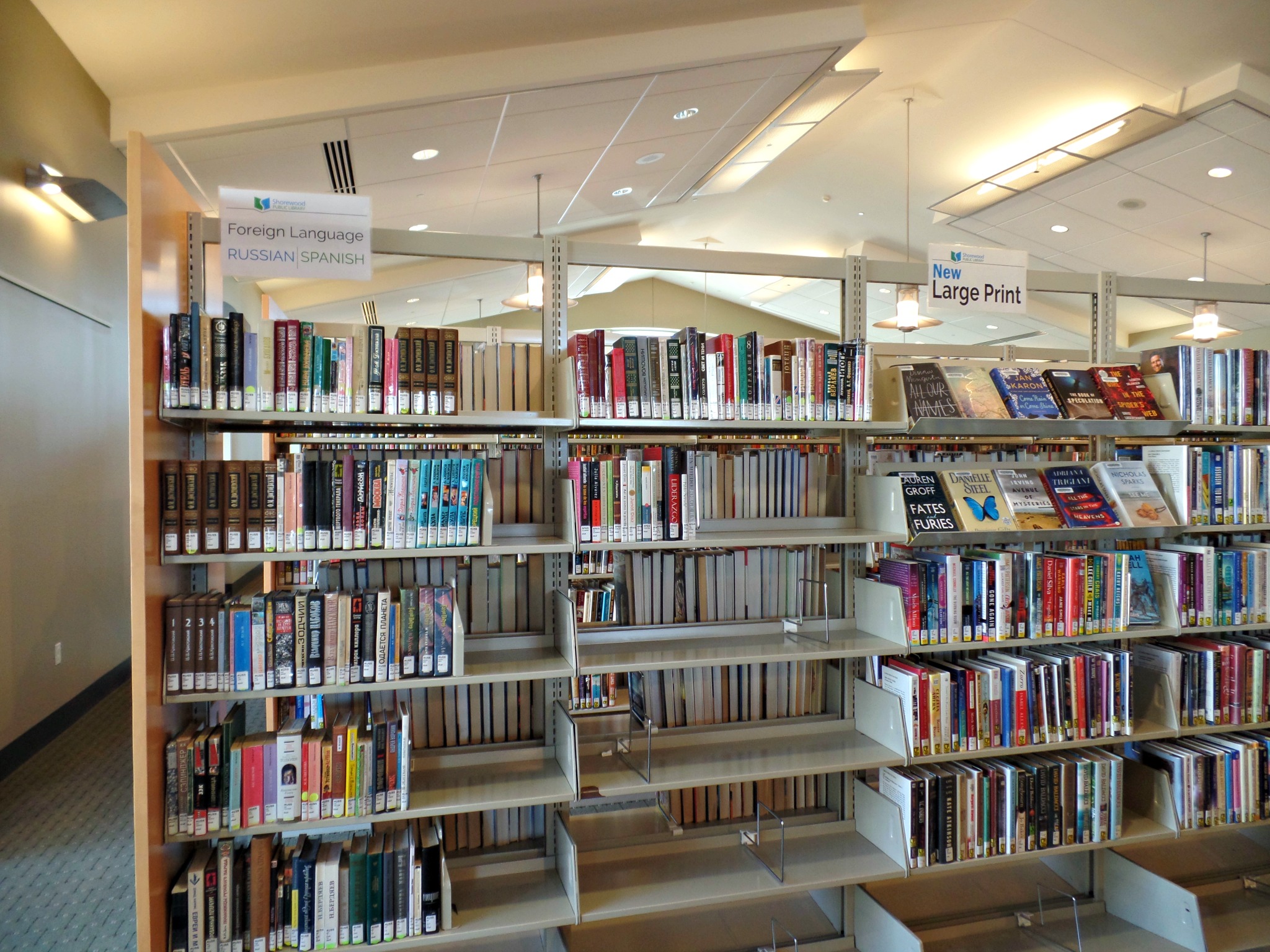 adult foreign language materials in their new home.
As discussed in a previous post, we have been expanding our collection of foreign language books for adults. To reflect this renewed commitment to materials in languages other than English, we just moved the collection to a more prominent place. You can now find the Adult Foreign Language collection (previously called Adult Russian Language) at the front of the shelving range with the large print and genre books - right across from computers 15 & 16. We're happy to point it out so you can enjoy!
Moving these books has cleared up some shelf space, and made us think a bit about some items sitting right next to these books: the VHS collection. At this point, we are one of the only MCFLS libraries still carrying VHS as a format (it's no longer widely produced, nor are the VCRs) Through connecting with the other libraries who also carry VHS tapes, we learned that the only ones they still have are not yet available on DVD. As things come available on DVD, they are replacing titles with DVD versions. Your personal move from VHS to DVD is certainly reflected in the numbers: about 75% of our VHS collection had not left the building in almost two years! As a comparison, our entire DVD collection has circulated within the last year. We have taken these tapes completely out of the collection. The remaining 25% of tapes that are films and documentaries with a little life left in them are being carefully considered for replacement, retention, or even relocation to another library so they are still available to all MCFLS patrons.
Removing shelves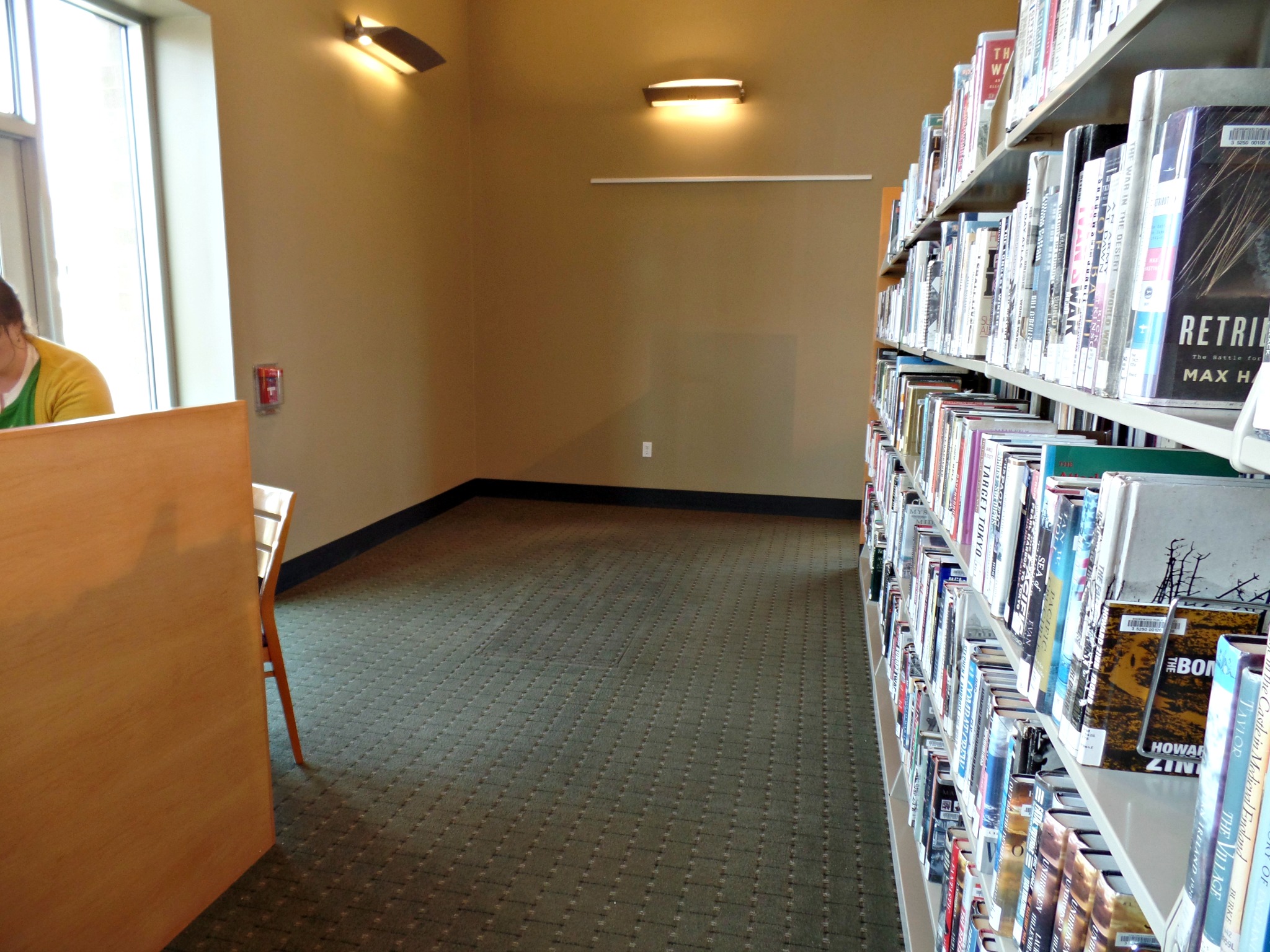 where the vhs and russian books used to live.
so much potential!
You'll also notice that these two moves freed up an entire little corner of the "quiet side" of the library - this is awesome! To capitalize on it, we have taken down the small shelf and we're rearranging some seating so it's more conducive to quiet work.
We still have one big empty shelf that was left over from rearranging the art, large print and mystery books last year. That one is staying until we complete a redesign plan for the periodicals area a little later this spring, using a private donation made in memory of Harry Onufrock (you've probably seen his name in most of our new fiction and mystery books thanks to his wife, Elizabeth!) and some capital funding from the Village of Shorewood.
---
Look for more changes and let us know what you think of these ones. We're excited to be flexible and meet your needs as they change - we'll change with you.
Share This: