---
Friends of the Shorewood Library board member and volunteer shared these thoughts after receiving the Volunteer of the Year Award for 2015.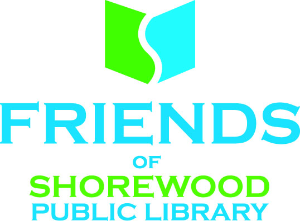 "Like all of you, and like the wonderful Friends no longer on the board or no longer with us, I serve because I love our library, because I love our village, because I love the wonderful people with whom I have the opportunity to work. I love that our library is so very central to and responsive to our community. I love how the library staff and the Friends strive to meet the intellectual, cultural, educational, and social needs and curiosities of the children, teens, and adults of Shorewood through materials, programs, and celebrations.
I love how the library provides a place to read, to research, to socialize, to discover our place in the world, to hone our worldviews--a place just to be.
I love how the incredible staff never stops imagining and then creating new ways to enrich our lives, and how they field our every request.
I love how my fellow board members give unstintingly of their time and talents to help the library meet its mission.
Receiving such recognition for being a part of what I love--books and intellectual curiosity are my life--amazes and humbles me.
Me? Really? Thank you, friends."
-Jeannee Sacken, January 2016
Jeannee was featured in the Library's January newsletter. For more on her work, you can read the archived newsletter here.
Share This: