---
On Wednesday, May 8th the Shorewood Library is hosting Joy Lee Han.  Han, who was one of the thousands of Chinese immigrants who came to the United States in the 1950s, shares her inspiring journey to a new world-and a new life-personifies that the immigrant experience.  Join us at 6:30 p.m. in the Shorewood Village Center.  Refreshments will be served. 
In the meantime, here are some titles that explore Chinese culture or the immigration experience: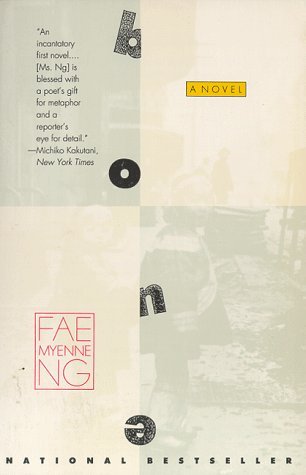 Bone: A Novel by Fae Myenne Ng
Family secrets, hidden shame, and the remnants of a lost history surround two generations of the Leong family who now live in San Francisco's Chinatown.  Bone, Fae Myenne Ng's first novel, follows Mah, a seamstress, her husband, Leon, a merchant seaman, and their daughters, Leila and Nina as they try to put the pieces together after their daughter and sister's Ona's suicide.  Told from Leila's point of view, she and Nina share a collective guilt surrounding Ona's death as they sift through problems and issues that plague the Leong family.  Painting a genuine portrait of a Chinese-American family, Ng illustrates how wisdom, everyday heroism, loyalty, love, and a supportive community can overcome grief. 
Chinese Whispers: Recent Art from the Sigg and M+ Sigg Collections edited by Kathleen Buhler
The exhibition catalog for Chinese Whispers features over 2,200 contemporary artistic pieces of media from the Sigg and M+ Sigg Collections that were created by over 350 artists.  The works, which were collected over the past fifteen years, illustrate how transmission, miscommunication, and distortion play a role between Western culture and Chinese tradition.  The works, which include pieces by Ai Weiwei, Cao Fei, Feng Lijun, and Zhuang Hui, attempt to answer "What is Chinese art?" by examining the social, political, cultural, and historical differences between the East and the West as well as the contrast between tradition and progress.  Most importantly, artists are able to directly share their perspectives of China through questions and answer interviews.       
Number One Patriot: American Dreams in Chinatown by Lauren Hilgers
Zhuang Liehong, a tea shop owner, and his wife, Little Yan, left rural China to make a life in Flushing, Queens after Liehong's activity in pro-democracy protests.  Reporter Lauren Hilgers follows Zhuang and Little Yan's lives in the United States as they navigate employment agencies, language schools, illegal dormitories, and meetings with asylum brokers as they try to obtain legal statuses.  Along the way, Hilgers also highlights additional Chinese immigration stories with newcomers like Tang who was an activist in the 1989 Tiananmen Square student who is still pushing for more a democratic state in China; and settlers like Karen, a nail salon technician and part-time vocational school student, who only wants to look forward to the future.  Hilgers vibrant portraits of Chinese immigrants illustrate the meaning of freedom, family, and the American dream.      
Share This: