---
You've got a new way to listen to e-audio books in Wisconsin's Digital Library: OverDrive Listen. Plus, announcing no more incompatible WMA audio books!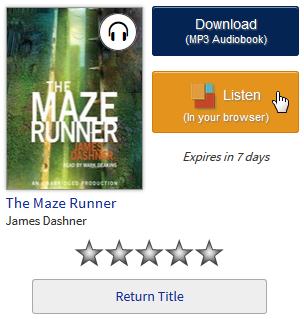 No more WMA/WMV files
We know this is an issue for you, because we have gotten many support requests and in-person questions about these pesky WMA audio books. OverDrive - the company that runs the platform on which the WI Digital Library runs -  has been getting ready to remove WMA formatted audio books and WMV formatted music and video over the last few months. This process is now complete! OverDrive has worked with publishers to get MP3 replacements for the majority of WMA titles - but some are not available in other formats, and will be removed from the Digital Library. OverDrive has created a helpful FAQ about the process, including what will happen if you have a hold on an irreplaceable WMA audio book. We are happy to help here, too, as we transition to a Digital Library with only those lovely, easy-to-use MP3 audio books!
OverDrive Listen
OverDrive has also announced a new listening option for audio books, called OverDrive Listen.  Similar to OverDrive Read for e-books, OverDrive Listen offers the ease of use: browse, borrow, and listen right in your browser with a single click! There are no downloads or software required; all you need is a compatible web browser. Using OverDrive Listen, you can also add bookmarks, take notes, or make highlights.  As with OverDrive Read for e-books, OverDrive Listen is only available for those books where the publisher permits it. Luckily for all of us, that includes the vast majority of the Wisconsin Digital Library collection of audio books.
Audio books have grown in quality, abundance, and popularity. We hope that these two new features help you take advantage of them, whether you're a first-time listener or a long-time fan!
Share This: