---
Publishing is an industry not noted for diversity. But recent years have brought change, with more authors of color hitting the shelves and making it big. 
Black authors are still highly underrepresented in mainstream publishing. A publishing industry study put out in 2015 (and being replicated this year) shows that just 4% of the industry overall (writers, publishers, editors, etc.) is black. During this Black History Month, we showcased that disparity through displaying only books by black authors in our new fiction, mystery, sci fi and non-fiction shelves. Notice something?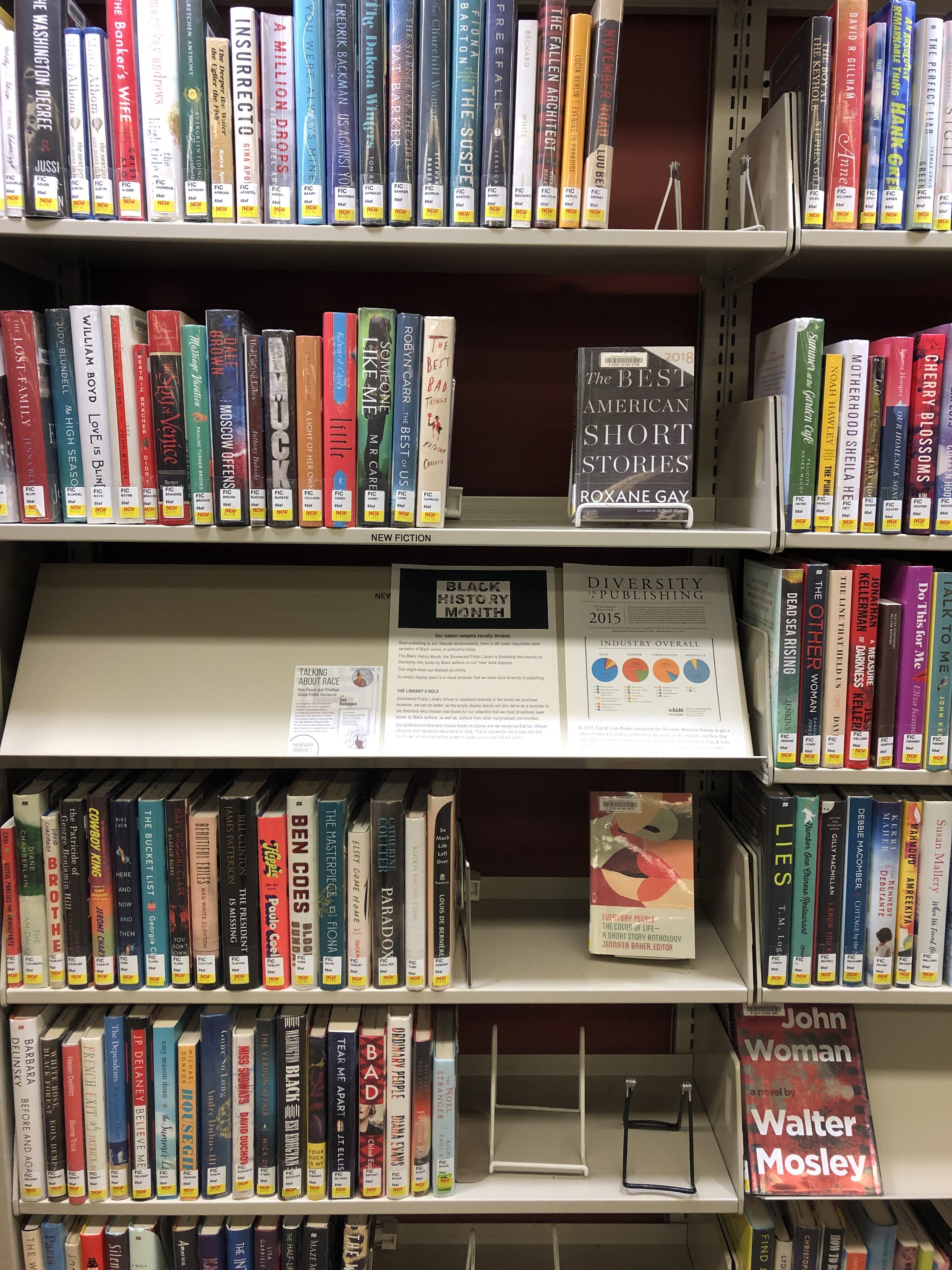 A lot of empty display space indicates that black voices are missing.
Inspired? Here are some black authors you should be reading now:
American Spy by Lauren Wilkinson
A debut that is drawing comparisons to spy literature great John Le Carre. Written in the form of a letter from former spy and FBI agent, Marie, to her young daughters, American Spy follows Marie from her beginnings as a low-level FBI agent to getting wrapped up in international intrigue that has ultimately landed her on the run. Like Le Carre's work, this is more than a spy story - it's a study of the meaning and fluidity of identity, the place of black women working in a white-male-dominated infrastructure, and the lack of morality in politics.
Black Leopard, Red Wolf by Marlon James
Jamaican-born James' third novel (A Brief History of Seven Killings) was a Man Booker winner, and his latest - a foray into sci fi, and the first in a planned trilogy - is already receiving accolades. It's popular, so you will have to get on a waiting list to get your hands on it! An epic fantasy with deep roots in African history and mythology, it tells the story of Tracker, who is hired to seek a missing boy but winds up getting more involved in this mysterious young man's story than intended. 
The Book of Delights by Ross Gay
Poet Ross Gay set himself a challenge: to spend a year writing an essay about something delightful every day. The result is, well, delightful! A catalog of essays which consider delights large and small, this is a meditative book that will make you see things in a new light. 
Notes From a Black Woman's Diary by Kathleen Collins
Artist and filmmaker Collins left a catalog of unpublished writing when she died nearly 30 years ago. This collection, edited by her daughter, presents plays, short stories, diary entries, letters and more. A must-read from a singular voice.
Share This: