---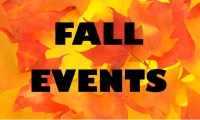 There are plenty of signs that fall is just around the corner – it's getting dark earlier, there is a chill in the air, leaves are starting to turn colors – and the Library's fall program schedule is out.  You can find the complete events calendar here.    
Here are a few of the highlights -                                        
      Story time season kicks off this week with the start of Preschool Story Time.  The preschool sessions , for 3 and 4 year-olds, are Thursday mornings from 10 – 10:30 a.m.  Toddler Time for 2 year-olds and Rock & Read Lapsits for 6 – 23 months will be held Mondays November 3 – 24. We offer morning and evening sessions of Toddler and Rock & Read. Registration is required for all story times. For more information click here 
   Special Saturdays continue October 11 at 10:30 a.m. with the "Signs of Fall" – a sign language story time with an autumn theme. Special Saturdays are aimed at families with young children. Our next Pop in & Play sessions will be October 13. Pop in & Play sessions are designed for children, 6 months to 3 years, and an adult caregiver to share some early literacy activities while playing.
  For the school-age crowd, the popular Lego Club continues one Thursday a month from 4:00 – 6:30 p.m. The next session will be September 25. Lego Club is for kids in grades one and up. If you are looking for an activity the entire family can enjoy, Family Fun Craft Nights will be held one Tuesday a month from 6 – 7:30 p.m. (Awesome artistic ability is not required.  We have projects for all levels.)
  Of course it wouldn't be fall without the annual Halloween Happening. This year's boo-tiful bash will be held Wednesday October 29 from 2:30 – 4 p.m. Trick or treat in the haunted hallways, make a spook-tacular craft, and play some ghoulish games. Wear a costume if you wish.
  Tweens and Teens can look forward to the 1st Annual Minecraft Building Competition. Shorewood Library will be taking on archrivals Whitefish Bay. The first round takes place Saturday October 11, 12 – 3 p.m. at Whitefish Bay Library. Registration starts September 27. Round II will be held Saturday November 15 at Shorewood Library. October 1 at 6:30 p.m , our tween and teen readers will also have a chance to meet Scott Westerfeld, best-selling author of the Uglies series.
  We will also be hosting two special family events. Plein Air Shorewood's Family Preview of Art will be held at noon on Saturday September 20. The much awaited opening of our Play Learn Grow Early Literacy Center will take place on Sunday September 28 at 2 p.m..
   We know there are times when parents need a night out and some grown up conversation so we even have a few things planned just for them.  Plein Air Shorewood's Gala and Exhibition will be held at the library Saturday September 20 at 6 p.m..   On October 6, authors Genevieve McBride and Stephen Byer will discuss and sign their new book Dear Mrs. Griggs: Women Readers Pour Out Their Hearts from the Heartland.
  With all of those options, we hope to be seeing a lot of you and your families.
Share This: