---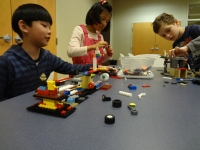 Libraries across the country are journeying into Legoland. The Lego Company has teamed with the American Library Association's Children's Services Division to develop Library-Lego programs. Last month, Shorewood Library jumped on the Lego bandwagon with the launch of our own Lego Club. Response was very positive so we will continue. Kids in first grade and up are invited to drop in for some free building block fun Thursday March 20 from 4:00 to 6:30 p.m.  Like all Lego creations, our club may be tweaked and changed. We welcome your feedback.
Some may ask how playing with Legos fits with libraries and learning. Actually, it's a perfect fit. Libraries are places for lifelong learning. We know that kids learn best from hands on activities. Playing = Learning. The first Lego bricks were designed in the 1940s by a Danish carpenter who believed traditional stacking blocks didn't allow for creative and unique building possibilities. He named his new building blocks "Lego" for the Danish phrase "leg godt" or "play well." For decades, kids and adults have been doing just that with Legos.
Kids are doing more than building colorful structures and creatures. Legos and other building play are an ideal way to develop STEAM skills (Science, Technology, Engineering, Art, Math). It also develops creativity, problem solving abilities, self-confidence and it's SUPER FUN.  So join us March 20 for a block-building brain-building bonanza.
(We are still accepting donations of Lego bricks and accessories.)
Share This: