---
Someone recently told me that they thought storytime was "just someone reading a book to kids and talking about it a little bit." Today's programs are much more than reading books out loud to a group of children. They are designed to promote a love of reading and the library and to encourage the development of literacy skills. All of the activities are developmentally appropriate so a lapsit for babies and young toddlers is very different than a preschool or all ages storytime.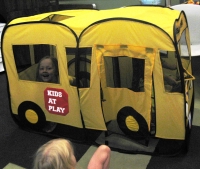 Rock and Read Lapsit sessions for our littlest book lovers are designed to engage children, while modeling early literacy activities that parents and caregivers can continue at home. They include short interactive books, songs, finger and bouncing rhymes, and play time. Toddler Times for 2 year olds also feature songs and finger rhymes, but include slightly longer stories and simple crafts to promote language and small muscle development. Toddler sessions are based on themes because 2 year old brains are starting to recognize connections and differences.  Preschool storytimes for 3 & 4 year olds are also based on popular themes and include stories, music and crafts. They also develop some of the social skills needed in group settings.
Obviously, we want kids to associate books, reading and the library with fun times. Behind the entertainment, storytimes are building and strengthening the six basic skills needed to become lifelong readers – interest in books; narrative skills, enriched vocabulary, phonological awareness, print awareness, and letter knowledge. All activities are carefully chosen to stimulate  early literacy development -  from using nametags to promote letter recognition to chanting 5 Little Monkeys Jumping on The Bed to develop a sense of sound and rhythm, as well as teach simple counting.
Of course, we know that none of that will have an impact if kids aren't interested in what is being presented. They don't ask if storytime has educational value. They want to know if it's fun. We make sure it is.
More info about our storytimes is just a click away.
Share This: