---
So, do you read the book and then watch the movie, or watch the movie and then read the book?  Sometimes it may depend on the book or movie.  Other times it may depend on which one you can get your hands on first.  Or, maybe you didn't even know there was a book!  Well, which ever route you decide to take, here are four books and their film counterparts worth taking a look at…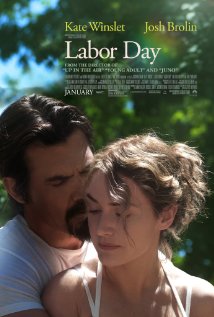 244 pages
Thirteen year-old Henry Wheeler and his reclusive mother Alice's lives are turned upside down when convict Frank Chambers convinces them to let him stay with him.  What starts out as a passion-filled weekend quickly turns to betrayal when life-altering incidents unfold. 
Rated: PG-13
Starring: Kate Winslet, Josh Brolin, Gattlin Griffith, and Tobey Maguire
748 pages
Set in mythical New York City, Winter's Tale follows a burglary gone bad when Peter Lake breaks into what he thought was an unoccupied mansion and meets Beverly Penn.  From there a series of miracles occur as destinies intertwine in an age-old love story.
Rated: PG-13
Starring: Colin Farrell, Jessica Brown Findlay, and Russell Crowe
The Monuments Men: Allied Heroes, Nazi Thieves, and the Greatest Treasure Hunt in History by Robert M. Edsel
473 pages
In a race against time, the World War II platoon known as the "Monuments Men" were tasked by Franklin Delano Roosevelt to track down and protect priceless European art that was looted by the Nazis.  How far will they go to protect humankind's greatest achievements?
Rated: PG-13
Starring: George Clooney, Matt Damon, Bill Murray, John Goodman, Cate Blanchett, Hugh Bonneville, Bob Balaban, and Jean Dujardin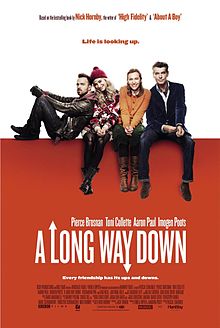 A Long Way Down by Nick Hornby
333 pages
It's New Year's Eve, and four strangers- a musician, mother, teenage girl, and talk show host- meet on a London rooftop.  Infamous as a place to commit suicide, the four postpone their decisions for six weeks and form a family unlike any they had before. 
Rated: R
Starring: Pierce Brosnan, Toni Collette, Aaron Paul, Imogen Poots, Rosamund Pike and Sam Neill
Share This: