---
The Shorewood Public Library enjoys the support of many talented and devoted volunteers, but none of these volunteers outpaced the contributions of the 2016 Friends Volunteer of the Year: Ann Keenan.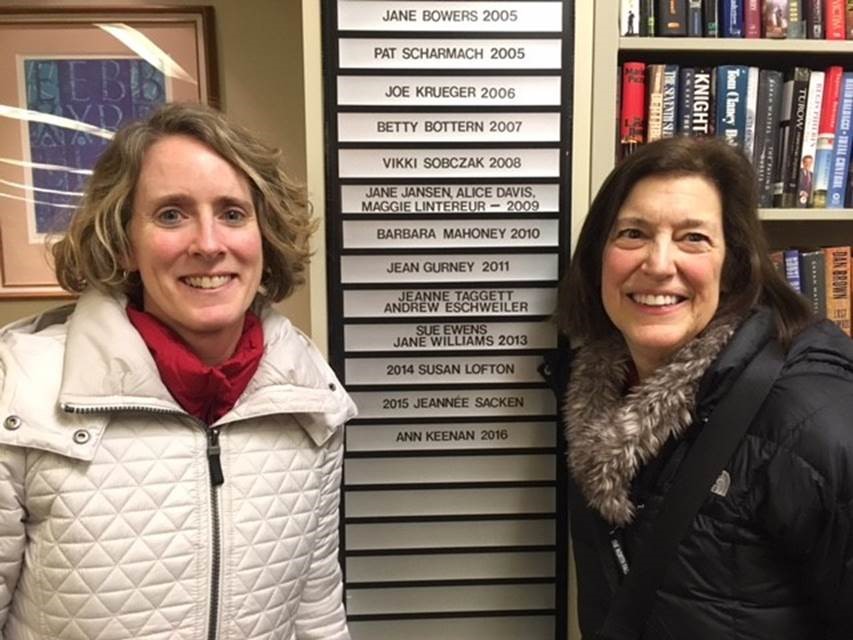 Keenan joined the board in January 2014 as treasurer. She added this volunteer job to her already busy schedule as a mom of two young children and treasurer of the St. Robert Home and School Association. 
As noted by outgoing board president Priscilla Pardini at the December meeting, Keenan brought the Friends to a new level of professionalism. About Keenan's accomplishments as treasurer, Pardini wrote, "With remarkable competence, persistence, and good humor she proceeded to:
Update the Friends' federal and state financial reporting procedures
Apply for and secure the Friends Wisconsin Charitable Organization status
Resolve outstanding account receivables and payables that in some instances had been pending for almost two years
Revamp and computerize all Friends financial operations
Revamp the Friends' monthly financial reporting
Revamp the Friends' general financial policies and procedures, including those related to the way Friends funds are  requested from and flow to the library, and the process by which online donations are routed to the Friends' account
 Prepare, in 2015, our first budget and helped draft a By-Law amendment governing future budgets
Arrange for a Friends debit card
Help, in 2015, with a "spring cleaning" of the Friends file drawers
Pardini added: "Having had Ann as the Friends treasurer over the last three years has meant more to me than I can express. I sleep better at night just knowing she has been overseeing management of the Friends finances, something I take—as I know all of you do as well—very seriously. What's more, Ann's legacy will be long lasting: the financial systems she has put into place not only brought us into the twenty-first century, but will also serve us well as we move forward. In addition, I should add that Ann's participation on the board has brought to our work the very valuable perspective of both a loyal library user and avid reader, and that of a mother with young children."
Keenan launched a new business, Keen Cloud Accounting, LLC, in fall 2016. As principal, Keenan will provide QuickBooks software solutions and a suite of accounting services to non-profits and small businesses in the Greater Milwaukee area. If her work as treasurer of the Friends of the Shorewood Library is any indication, Keenan will be very successful in her new role.
Submitted by Anne O'Meara Stillwell
Share This: