---
The Friends of the Shorewood Public Library support and promote our library fifty-two weeks of the year, but we still get excited about National Library Week!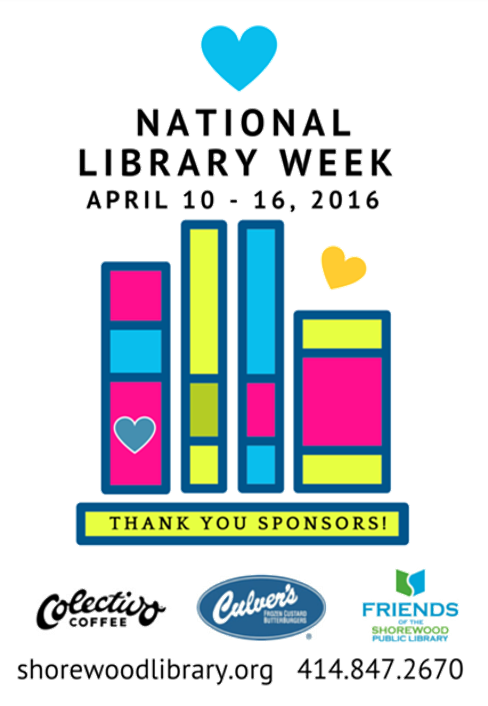 Join us April 10-16 as we:
Celebrate the rich history and importance of libraries in the United States and Shorewood.
Enjoy special programs for people of all ages and interests.
Bring the Shorewood community to the library and the library to the community!
A bit of the history of National Library Week from the American Library Association website:
In the mid-1950s, research showed that Americans were spending less on books and more on radios, televisions and musical instruments. Concerned that Americans were reading less, the American Library Association (ALA) and the American Book Publishers formed a nonprofit organization called the National Book Committee in 1954. The committee's goals were ambitious. They ranged from "encouraging people to read in their increasing leisure time" to "improving incomes and health" and "developing strong and happy family life." 
In 1957, the committee developed a plan for National Library Week based on the idea that once people were motivated to read, they would support and use libraries. With the cooperation of ALA and with help from the Advertising Council, the first National Library Week was observed in 1958 with the theme "Wake Up and Read!"
National Library Week was observed again in 1959, and the ALA Council voted to continue the annual celebration. When the National Book Committee disbanded in 1974, ALA assumed full sponsorship.
That makes 58 years of National Library Weeks. Some of our concerns have changed - we may not worry about radios and musical instruments taking up too much of our time! - but we still believe that reading and community involvement can improve health and family life.
National Library Week 2016 here at Shorewood Library includes some great fun, planned jointly by the Library and the Friends. Thanks to financial support of the Friends and the hard work of Priscilla Pardini, Elizabeth Jonas, Jeannee Sacken, Darcie Kileen, Kathy Clark, Kelly Clark, librarian Hayley Johnson and administrative assistant Angela Andre, Shorewood's National Library Week programs include:
To further the message of National Library Week the Library is also expanding beyond its borders for the week. You have heard of pop-up stores, now watch for pop-up libraries around the Village! While shopping, strolling or getting your coffee in Shorewood during National Library Week, you may find a temporary library stocked with like-new books that are yours to keep. 
You will also see Susan Lofton, Friends membership coordinator, at events and in the library.  Stop by to find out how you can get involved and support the Shorewood Library or email the Friends. 
By Anne O'Meara and Priscilla Pardini
Share This: