---
Did you know that Wisconsin's Digital Library - our shared statewide library for e-books and audiobooks - also includes streaming video?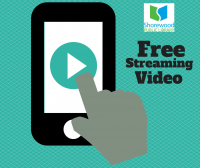 The selection is currently smaller than your favorite streaming video sources like Netflix and Hulu. But, there are some notable titles available, such as Django Unchained, Blue Valentine, and Michael Moore's Capitalism: A Love Story. 
These about 400 more are available to watch on any device that plays movies and accepts the OverDrive app: Kindle Fire, NOOK tablets (not e-readers), iOS and Android mobile devices, laptops and desktop computers (Mac and Windows alike). Just like other content on the digital library, streaming movies are checked out to one user at a time. Movies can be checked out for a maximum of seven days. 
If you already have the OverDrive app on your device, getting started with streaming video is as simple as it gets. Browse movie titles by navigating to the Digital Library from within your OverDrive app, and choosing the option to view All Collections, within the Featured Collections menu. Once there, select New Streaming Video from the Collections drop-down menu to browse the video collection. 
Once you have found a movie you want, simply click Borrow just like you do for e-books. In your account, choose Download (only one format available) and the video will instantly download to your OverDrive app's bookshelf!
Because these are streaming videos, the content is only available when your device is connected to Wifi. 
If you are new to OverDrive and the Digital Library, but want to get started with using streaming video, please come and talk to us at the information desk anytime! You can also find lots of helpful resources tp get you started on our website and on the OverDrive help website.
Share This: