---
St. Patrick's Day may be a ways away, but with Irish Fest in town, we thought we'd celebrate a little early with some Irish-themed fiction.  Like leaves of a four-leaf clover, here are four new titles featuring Ireland and/or Irish characters.  With drama, historical fiction, mystery and suspense, there's something for everyone, Irish or not.       
The Innocent Sleep by Karen Perry
Five years ago, Harry and Robin lose their son Dillon in an earthquake.  In an effort to salvage their marriage, the devastated couple moves to Dublin, but instead of moving forward, Harry is convinced he sees Dillon on the street.  And thus the mystery begins: was Dillon killed or was he kidnapped? Harry sets out to uncover the truth, but Robin seems to have secrets of her own.  This fast-paced, unsettling novel will definitely not put you to sleep!
History of the Rain by Niall Williams
Ruthie Swain, the bedridden daughter of a dead poet, returns to County Clare to learn more about her father.  Determined to tell his story before she dies, Ruthie begins to uncover her family's history through generational journals as well as her own writings.  After losing her twin brother and suffering from a mysterious illness, writing is Ruthie's only hope of going back to the world.  Capturing the awe of Ireland and the heart of her family, History of the Rain is sure to be a heart-warming, treasured read!
No Country by Kalyan Ray
Haunted by memories of Dublin, Iad Padraig Aherne sails to Calcutta to make a fortune in the import business.  Unbeknownst to him, he leaves behind his pregnant girlfriend, Brigid, and his best friend, Brendan.  Shortly thereafter, the potato famine strikes, and Brendan immigrates to Canada. Following two best friends across the globe, No Country is told in different voices to illustrate the triumph and challenge of migration.  In a novel that spans three continents and multiple generations, this saga focuses on the importance of identity, family, and nation in a narrative that will remind us that we were all immigrants at one time.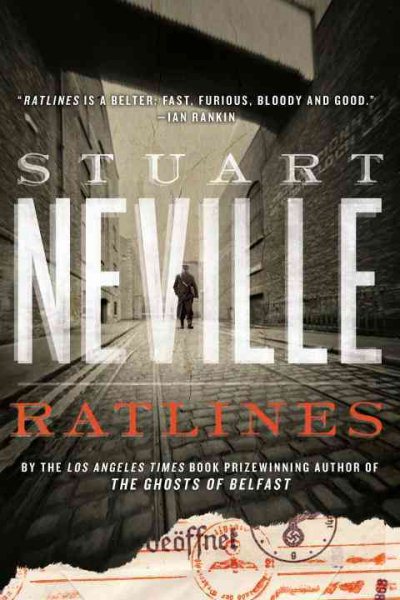 After three foreigners are murdered, Lieutenant Albert Ryan is on the case.  Set in Ireland during 1963, Ryan starts putting the puzzle pieces together: all three victims were German Nazis seeking asylum from the Irish government.  Uncovering a network of former Nazis and collaborators, Ryan is tossed into a convoluted political landscape where he must choose between loyalty to his country or his conscience.  With historically-inspired characters, twisting plot lines, and themes of suspense, Ratlines will take readers deep into the dark side of both Ireland and World War II.
Share This: