---
There's still time to celebrate National Poetry Month with the many new works of poetry we have on the shelves.
The Beauty by Jane Hirshfield
The original poems in The Beauty - acclaimed poet Hirshfield's eighth collection - move effortlessly between the every day and the metaphysical. Focusing on the minute details, the "beauty" of simple things, this is accessible, yet not undemanding, poetry for even poetry neophytes.
Dark Sparkler by Amber Tamblyn
The third book of poetry by actress Tamblyn (Sisterhood of the Traveling Pants, 127 Hours), Dark Sparkler illuminates the mythology of the young actress in sometimes brutal detail. Tamblyn paints haunting portraits of thirty-some actresses from well-known (Jean Harlow, Brittany Murphy) to relatively unknown (Lupe Velez, Jennifer Davis). She muses on their lives, and in most cases, their tragic deaths. 
The Breakbeat Poets: New American Poetry in the Age of Hip Hop
Edited by several Chicago poets practicing in the hip hop poetry genre - most notably Kevin Coval who help found the largest teen poetry slam in the country, Louder Than a Bomb. This is the first anthology by and for poets who mix the tradition of hip hop, slam poetry and the written word. A perfect introduction to and elucidation of a type of poetry and a range of poets who deserve wider recognition.
Citizen: An American Lyric by Claudia Rankine
Not as new of a release as the others listed here, this collection of poems that tackle the pertinent subject of race in America won the 2014 National Book Award for poetry. Rankine distills every day encounters with racism in a narrative style that is clear and sharp yet raw, accurately depicting the utter bafflement felt by an educated, middle-class black woman who is repeatedly the subject of racist judgments. Powerful, timely, a must-read.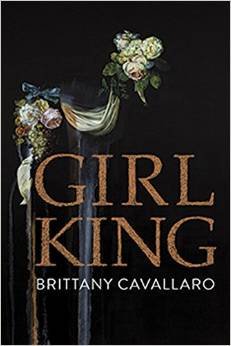 Girl King by Brittany Cavallaro
Local author alert! Cavallaro was recently at Boswell Books for the launch of this collection of poetry. Cavallaro traces the story of a "girl" through history, pitting her role as madame, magician's assistant, and muse, against a 21st century picture of femaleness. 
The Lunatic by Charles Simic
Wry humor and dark melancholy mingle to perfection in Simic's latest collection. The former Poet Laureate and Putlizer Prize winner takes us to a bucolic rural landscape that hides dark secrets - loneliness and heartbreak echo in the simple details he aptly describes. A quick and startling read for a rainy day.
Share This: