---
It doesn't feel like spring (anymore. Come back February!), but we're getting ready for it anyway. Help the transition into a new season with new music.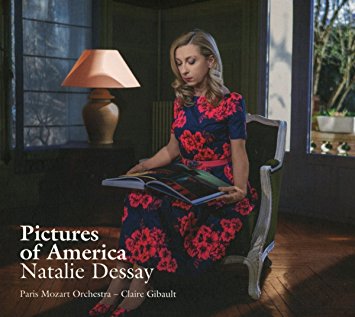 Pictures of America by Natalie Dessay
Opera fans are used to hearing French soprano Dessay tackle operatic classics. Here, she tackles a different genre of classics: American popular songs from Sondheim, Sinatra, Bernstein and others. Backed by the Paris Mozart Orchestra conducted by Claire Gibault, these songs shift between classical, pop and jazz, feeling at turns cinematic and Broadway-esque. Dessay's voice, as she describes in the liner notes, is very different from her usual soprano. This follows her 2014 release, De l'Opera a la Chanson, on which she also covered popular songs but in a less concentrated manner, placing them between arias and classical favorites. This is a fun listen for fans of the American songbook.
Life Will See you Now by Jens Lekman
Swedish musician Jens Lekman's new album is full of stories. Most songs pair an effervescent melody with bittersweet lyrics. Lekman's style is both singular and reminiscent of singer-songwriters like Ben Folds and Paul Simon (especially "Wedding in Finistere"). 
The Year 1917: Music in Turbulent Times
If you think 2017 feels turbulent, hearken back a century - and maybe find some solace - with this compilation of classical music from the year 1917. From Satie, to Prokofiev, Vaughan Williams to Ives, it's a revelation to hear the output from a year and continent torn by war.
Freedom is Free by Chicano Batman
Get a preview of this album from NPR Music. If you need something to get you in the mood for spring breezes, this album is it. Reggaeton beats, psychedelic keys, Latin flair, and vintage soul and funk inspiration all mix and match Throw open the windows and turn up Chicano Batman.
Share This: