---
March is Women's History Month, and this week's non-fic picks highlight NEW titles relating to female artists.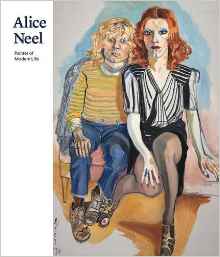 Alice Neel: Painter of Modern Life edited by Jeremy Lewison
With over sixty years of work, Alice Neel: Painter of Modern Life features over seventy oil paintings of Alice Neel's (1900-1984) work including people, still lifes, and cityscapes.  Characteristic of the artist's style, the vibrant, full color images illustrate Neel's expressionistic use of line and color to emphasize psychological depth.  Essays throughout the book feature the social and cultural context of Neel's work as well as an exploration of Neel's inspiration from photography, 1920s German painting, and artists like Vincent van Gogh and Paul Cezanne.      
Identity Unknown: Rediscovering Seven American Women Artists by Donna Seaman
You've probably heard of Frida Kahlo and Georgia O'Keefe, but are you familiar with Gertrude Abercrombie, Joan Brown, or Ree Morton?  What about Lois Mailou Jones, Lenore Tawney, Christina Ramberg, or Louise Nevelson?  Learn more about the aforementioned artists in Donna Seaman's Identity Unknown.  Often judged for their gender rather than their work, female artists were often neglected in history.  Identity Unknown attempts to shed light and deepen our understanding of women in art. Seaman includes full-color examples, along with sharing sources of their inspiration, work habits, and how they were perceived.
Women Who Read Are Dangerous by Stefan Bollmann
In Women Who Read Are Dangerous, Stefan Bollmann curates a beautiful compilation of images featuring women reading.  Spanning from the Middle Ages to modernism, Bollmann includes reproductions of drawings, paintings, photographs, and prints by artists including Michelangelo, Vincent Van Gogh, Suzanne Valadon, James Abbott McNeil Whistler, and Edward Hopper.  Each image is accompanied with a description, cultural context, and an anecdote about the model and/or the artist.  Bollmann highlights women's access to literature throughout the ages, illustrating how women's roles have shifted as literacy increased.
Share This: