---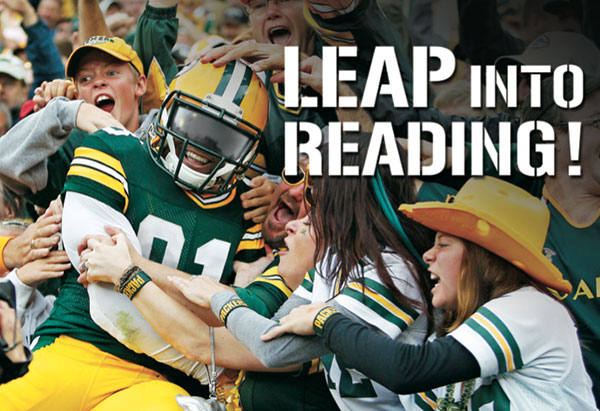 Thanks to Edvest and the Wisconsin Department of Public Instruction, we have a set of four tickets for the Green Bay Packer's Family Night on Saturday, August 2, that we are giving away!
For the last couple of years, Edvest has offered a program called Leap Into Reading promoted through Wisconsin's public libraries. Children up to age 12 can pick up an entry form at the library to enter to win an Edvest college savings account and four tickets to Family Night. Libraries that promote the program can also choose to be entered in a drawing to win four tickets to use at their discretion. Your Shorewood Library was one of the lucky winners of a set of tickets!
We decided the best way to give the tickets out was through a special drawing. Anyone can enter, but there's a catch: when you enter, you sign a form stating that if you win you will go to the game. We hope that this way, the family who wins will be the family who goes - and has a blast! Please don't enter if you're not sure you'll be able to go.
Enter now by filling out a form at the customer service desk at the front of the library. Kids cannot enter the drawing without a parent or guardian signature. One entry per family, please. Enter by July 24.
Questions? Call us at 847-2670 or email shorewood@mcfls.org.
UPDATE: We will be drawing the winner's name at the Summer Celebration on Thursday, July 24.
Share This: