---
Just in time for Halloween, this week's #FridayReads features books and movies by or inspired Stephen King, one of the best known writers of horror, supernatural, suspense, science fiction, and fantasy titles.   
Four friends- Jonesy, Pete, Henry, and Beaver- get together once a year in Jefferson Tract, Maine for their annual hunting trip.  This November, however, a severe blizzard hits their camp just as a sickly man comes stumbling along.  The men take him in and soon realize that he is infected, but with what?  Answer: an alien virus.  This becomes apparent when the stranger's stomach explodes, and a creature not of this world comes crawling out.  Now, Jonesy, Pete, Henry, and Beaver must not only survive an alien invasion, but they must also protect society from a militant vigilante who is trying to destroy infection by wiping out Jefferson Tract.  Creepy, menacing, and gruesome, this movie will keep you up long after the sun goes down.
Enjoy four suspenseful novellas in one book with Full Dark, No Stars.  In 1922, a man confesses to killing his wife after she tried to sell off the family farm.  In Big Driver, a rape victim seeks revenge on her attacker after he left her for dead.  In Fair Extension, a man is able to supernaturally transfer his bad luck and misfortune onto his best friend.  And, lastly, in A Good Marriage, a wife uncovers her husband's horrible secret while he's away on a business trip after twenty-seven years of marriage.   From dark humor to full out gore, Full Dark, No Stars is one of King's disturbing collections.     
To avoid listening to her bickering mother and brother, nine year old Trisha McFarland takes a detour during their Appalachian hike.  What she thought was a shortcut back, turns out to take Trish down the wrong path…  And she keeps wandering until she moves further and further deep into the woods.  For days, Trisha endures with minimal supplies, and her Walkman that picks up Boston Red Sox game broadcasts.  Soon, her favorite player, relief pitcher Tom Gordon is with her, but so is something else, something terrible.  Hungry, thirsty, and lonely, Trisha must fight her way through thunderstorms, swamps, and relentless swarms of insects or succumb to the dark creature that is stalking her.  Creepy and compelling, the true suspense and horror of King's The Girl Who Loved Tom Gordon lies in fact that something like Trisha's predicament could really happen.         
Barely alive, writer Paul Sheldon finds himself critically injured after a car accident on a lonely Colorado highway.  To his luck (or bad fortune), he is rescued by his "number one fan," Annie Wilkes.  Annie takes Paul home and nurses him back to health, but things take a turn for the worse when Annie learns that Paul kills off the heroine in his successful historical romance series.  Disappointed, Annie will do whatever it takes for Paul to change the story, including utilizing a number of tools like a drugs, an ax, and a blowtorch.  Violent and strangely humorous at times, Kathy Bates plays an unforgettable role in one of King's most memorable yarns.
P.S. Stephen King rules: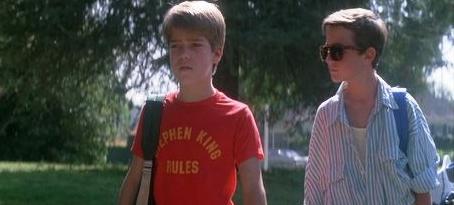 Share This: