---
2014 tax forms are now available free of charge at the library. While we can't provide every possible tax form, we are happy to offer you this service. Please read on to learn more about forms and tax help.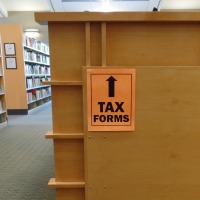 Forms
The WI Department of Revenue ships WI tax forms  to us for free, so we may provide them to you for free as well. As of today, we have the following state forms and their instructions: 1, 1a, 1NPR, WI-Z, H & H-EZ, WD. 
The IRS provides federal tax forms in the same way. This year, however, the IRS was unable to provide instruction booklets in mass quantities due to spending cuts. You can still get the instruction booklets by accessing them online, or requesting that they are mailed to you. We have federal forms 1040, 1040-EZ, and 1040a.
If you don't see a  form you need, it is most likely because we did not order it. We are happy to help you access forms online, place an order to receive forms via mail, and print forms you need (15 cents per page).
Forms are located by the adult computers. You can find them by following the orange signs from the front of the library all the way to where the forms are!
Tax Help
While we can help you access tax forms, we cannot provide tax preparation help. Luckily, our friends at the Senior Resource Center have teamed up with AARP volunteers to offer tax preparation assistance. Anyone can use this free service. AARP volunteers are in the Village Center Meeting Room Thursdays, 1-5pm, from February 5 through April 9. You don't need an appointment - just walk right in.
Happy tax season!
Share This: