---
Can't make it to Erin Hills this weekend?  Then, set up a tee time with some of our fiction and non-fiction titles featuring the great game of golf.
The 1997 Masters: My Story by Tiger Woods
In 1997, twenty-one year old Tiger Woods beat all odds to win the Masters Tournament.  His remarkable win not only thrust him into superstardom, but his record-setting margin of victory made him a legend.  Now twenty years later, Woods explains in his own words how the championship changed his life as well as the sport.  Woods reminisces on the physical and mental preparation to compete; the guidance he received from both his parents and golf legends; his transition from an amateur to professional athlete; and his personal musings on the future of golf.   Plus, The 1997 Masters includes never-before-seen color photographs replicating Woods' epic win.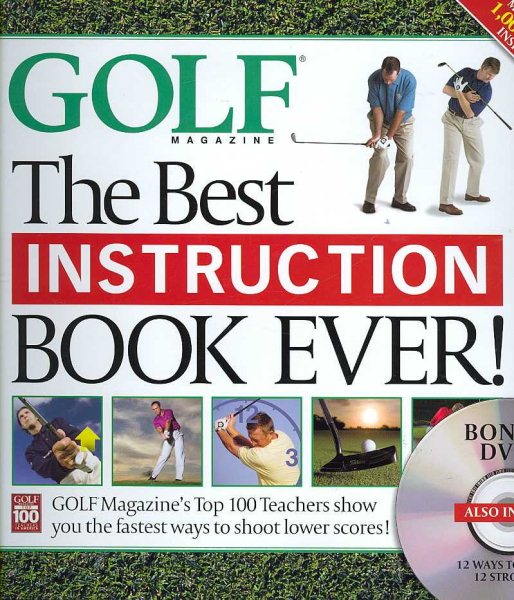 Golf: The Best Instruction Book Ever! From the Top 100 Teachers in America edited by David DeNunzio
Tapping into GOLF Magazine's elite team of teaching experts, The Best Instruction Book Ever! is your one-stop shop to improving your golf game.  With over 1,000 photographs, this tutorial has it all from tips and lessons to detailed instructions and methods for hitting every kind of shot.  Improve your consistency with practice drills to fix your swing, all of them, including driving, iron play, the short game, and putting.  As Ben Hogan once said, "The most important shot in golf is the next one," so make your next shot the best! 
The Swinger by Michael Bamberger and Alan Shipneck
Tree Tremont is a golf icon.  With fifty-three tour wins and thirteen major victories, Tree is living an athlete's dream.  He has a gorgeous wife, two children, and corporate sponsorships galore, including the backing of both Coca-Cola and Pepsi.  However, being well-loved by corporate America and sports fans alike makes things worse for Tree when a reporter uncovers his illicit liaisons with numerous women.  As his public and private lives collide, Bamberger and Shipneck take readers on a whirlwind tour of the inner circle of elite golf.  Written by two well-seasoned Sports Illustrated writers, The Swinger presents fast, funny, and sometimes outrageous portrayals of love, sex, friendship, marriage, media, and life as a celebrity.   
Share This: