---
It's time for tea!  Or, maybe it's time to tee off.  This week's #FridayReads feature books about tea and golf. 
American Triumvirate: Sam Snead, Byron Nelson, Ben Hogan, and the Modern Age of Golf by James Dodson
We're all pretty familiar with modern golf whether we've played the game or watched it on television, but what was the sport like before manicured courses and big payouts?  With over thirty years of writing about golf, James Dodson features three golfers that have moved the sport forward- Sam Snead, Byron Nelson, and Ben Hogan.  All born in 1912, these men dominated the course with careers spanning through the 1930s to the 1950s.  Snead, Nelson, and Hogan all broke records: Snead with a decades long winning span; Nelson with his winning streak; and Hogan with his Grand Slam.  Spanning multiple decades and events, American Triumvirate shows how three men put golf in the headlines and shaped the game how we know it today.
Homegrown Tea: An Illustrated Guide to Planting, Harvesting, and Blending Teas and Tisanes by Cassie Liversidge
If you enjoy drinking tea, maybe you should consider growing your own.  Tea provides a multitude of medicinal and nutritional benefits, and avid gardener and cook Cassie Liversidge will help get you started with her book, Homegrown Tea.  With fun facts and detailed notes, Liversidge covers all the basics like leaves, seeds, fruits, flowers, and roots.  Homegrown Tea will help you grow plants from either seed or plant clippings, and Liversidge will explain how to harvest and store your yield.  And, best of all, when it comes to enjoying the leaves of your labor, Liversidge will teach you how to make fresh and dried teabags.  So, whether you have a full-size garden or planters, you, too, can cultivate your own tea cupboard.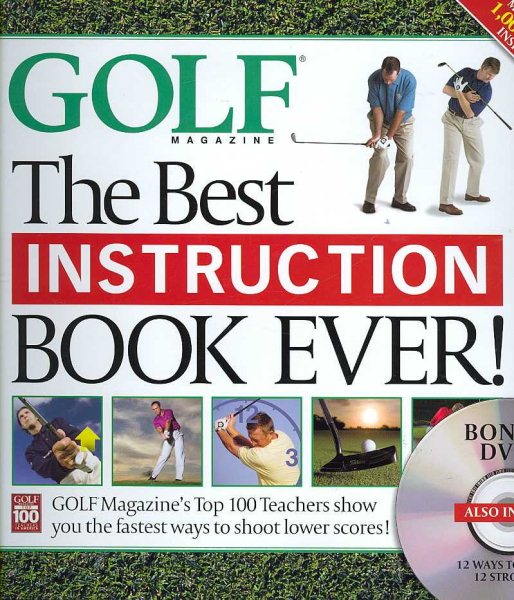 Golf: The Best Instruction Book Ever! From the Top 100 Teachers in America edited by David DeNunzio
Tapping into GOLF Magazine's elite team of teaching experts, The Best Instruction Book Ever! is your one-stop shop to improving your golf game.  With over 1,000 photographs, this tutorial has it all from tips and lessons to detailed instructions and methods for hitting every kind of shot.  Improve your consistency with practice drills to fix your swing, all of them, including driving, iron play, the short game, and putting.  As Ben Hogan once said, "The most important shot in golf is the next one,"  so make your next shot the best!   
The Tea Enthusiast's Handbook: A Guide to Enjoying the World's Best Teas by Mary Lou Heiss and Robert J. Heiss
Did you know that tea is the most commonly consumed beverage after water?  Some even believe that drinking tea will help one reach enlightenment and personal harmony.  Well, The Tea Enthusiast's Handbook takes tea beyond Lipton to answer all your premium tea-related questions.  Written by tea shop owners Mary Lou and Robert Heiss, this definite guide features the properties and pleasures of the six classes of tea.  Purchasing, steeping, and storage are all covered as well as the importance of how geographical location, cultivation, and processing will all contribute to flavor.  Complete with a glossary and buying guide, this handbook will help you enjoy the finer parts of life.     
Share This: