Events Calendar
---
Season's Readings: Adult Winter Reading Program
Wednesday, January 2
All Day
Location: Shorewood Public Library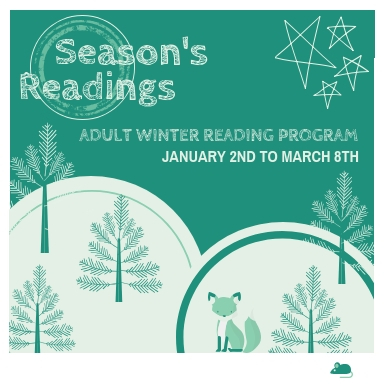 This year, the Shorewood Public Library offers you Season's Readings - our fifth annual adult winter reading program. Starting on Wednesday, January 2nd, you can pick up one of our designated reading logs. For every book you read or listen to, fill out the log and put it in one of our prize drawing gift bags. There are ten great prizes to choose from, and you may submit as many entries as you'd like. What better way to pass the gray winter days than by warming up with a good book? And your winter reading could win you some cool prizes from the library!
Season's Readings ends Friday, March 8th.
Sponsored by the Friends of the Shorewood Public Library.