Learn
Resources to find information for homework and personal interests:
Encyclopædia Britannica, Inc. - School Edition K-12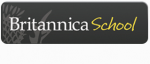 Reference for all general research needs and interests. Provided by BadgerLink.
Search for fiction books. Includes reading lists, author and book read-a-likes and genre overviews. Provided by BadgerLink.
Research all kinds of topics within many full-text sources including articles and book chapters. Includes Lexile scores. Provided by BadgerLink.
Research topics like Animals, Arts & Music, Biographies, Geography, Language Arts, Math, Science & Health, and Social Studies. Provided by BadgerLink.
Keyboarding Practice at Typing Web
The Library also has a large collection of informational books for different age levels, and reference books on many subjects.
Reference books can't be checked out, but you can take notes or photocopy pages! Photocopies are 15 cents per page for black and white and 50 cents per page for color.