Who We Are
OVER A CENTURY OF SERVICE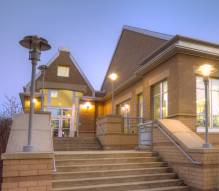 THE CURRENT LIBRARY BUILDING
WAS COMPLETED IN 2002.
Library service in Shorewood dates back to 1903, when the Village Board of East Milwaukee - as Shorewood was known at that time - appropriated funds, appointed a Library Board and hired the first librarian. Over the next half century, the library served residents at various rented storefront locations and at the Village Hall.
In 1965, the library opened its first permanent building at Shorewood Blvd. near the Village Hall. In the fall of 2001, the library moved to a temporary location in the River Club in Hubbard Park while the original building was renovated and expanded. The current Library and Village Center opened to the public in December of 2002.
Our Mission
Shorewood Public Library welcomes everyone to learn, connect, and explore. We serve our community with resources that promote lifelong learning and engagement.
Our Strategic Plan
In 2018, the library underwent a process to create a strategic plan. The plan, adopted in September 2018 by the Library Board, gives the library a vision and goals and shapes the library's activities for the next five years.
Click here to read the full Shorewood Public Library Strategic Plan 2019-2024
Our Values
The Shorewood Public Library staff, members of the library board and library volunteers are committed to the following core values that guide the mission and everyday efforts of the Shorewood Public Library:
We nurture connections in our community
We support community efforts to find and explore common ground by providing opportunities for productive conversation and problem solving. We help community members share with and learn from each other.
We value reading and personal enrichment
We recognize the important role reading and literacy play in learning, and in understanding our community and world. We support development of the whole person, at all ages, with materials that entertain, educate, and expand the human experience.
We foster lifelong learning
We are committed to providing tools and opportunities for lifelong learning that contribute to personal and professional fulfilment. We are dedicated to reducing barriers to information, technology, and the written word.
We are good stewards of the library and all it contains
We recognize that the public expects us to thoughtfully and responsibly manage the resources that have been entrusted to the library.
We value intellectual freedom, respecting a variety of viewpoints, opinions, and ideas
We value growth, creativity, and open-mindedness, and without censorship provide our patrons with materials that represent multiple viewpoints.
We are committed to providing a welcoming environment
We treat all people, our staff, and patrons with respect and care. We observe, consider, and are responsive to the community's needs and feedback. We strive to provide safe, comfortable, and welcoming spaces.
We respect our patron's privacy
We believe that privacy is core to the exploration of ideas and information and that all patrons have the right to confidential open inquiry.
We value our staff as a vital resource for the library and our patrons
We see our staff as our greatest resource and the key to upholding all other values. We provide meaningful staff engagement and robust staff support to ensure employee longevity and a healthy life-work balance.
Adopted by the Library Board on July 11, 2018