Events Calendar
---
Do Black Lives Matter? An Introduction to the Historical Devaluation of Black Lives
Tuesday, January 19
6:00 pm - 8:00 pm
Location: Virtual via Zoom
In this four-part series, Reggie Jackson will examine the hot topic of Black Lives Matter by asking the question: Have Black lives mattered in our society historically? The sessions are designed to provide historical context for the present day dilemma facing Blacks in America. Click here to read a statement from the library regarding our commitment to presenting this program series and other programs which examine the topics of race and racism, as well as other historic inequities.
The first session in our four-part series on the devaluation of Black lives will take a broad look at the hidden history many of us didn't learn growing up, including:
How have Black lives been devalued in America from 1619 to 2015?
How did the historical mistreatment of Blacks in America evolve from the time of the first enslaved Africans being brought to Jamestown, through modern times?
What psychological damage was done to blacks during slavery and Jim Crow?
How does the historical inferiority complex suffered by Blacks impact present-day self-devaluation, self-hatred and intrapersonal violence?
REGISTRATION
Registration is required for each session you plan to attend. Each session can stand on its own, and we encourage participants to join us for all four sessions.
You can register for the upcoming sessions below:
Tuesday, January 19th: Do Black Lives Matter? Introduction to the Historical Devaluation of Black Lives
Tuesday, January 26th: Do Black Lives Matter? The Devaluation of Black Lives in Politics and Law
Tuesday, February 2nd: Do Black Lives Matter? The Devaluation of Black Lives in Science and Medicine
Tuesday, February 9th: Do Black Lives Matter? The Devaluation of Black Lives in the Criminal Justice System
ABOUT REGGIE JACKSON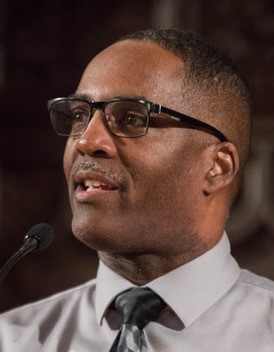 Reggie Jackson is a co-founder and lead trainer/consultant for Nurturing Diversity Partners (NDP), a firm that fosters diversity, inclusion, and equity within institutions and communities. NDP educates groups about the history, sociocultural dynamics, personal skills, and institutional practices that build a more equitable society. Reggie has been a much sought-after speaker, researcher, and writer for over a decade –regionally and nationally. His work helps institutions and individuals understand how our country's racial hierarchy developed historically, its impact on our lives today, and how we can realize America's promise for all citizens. Reggie shares seldom-told stories and facts about the experiences of African-Americans and other peoples of color past and present. He writes and provides background on current racial issues to regional, national, and international media.
SPONSORS
This series is co-sponsored by the Shorewood Public Library, the Shorewood Senior Resource Center, and the Friends of the Shorewood Public Library.