Events Calendar
---
Author Visit: Nick Hayes
Monday, May 17
7:00 pm - 8:00 pm
Location: Virtual via Zoom
Meet Shorewood author Nick Hayes! Nick will discuss his new book, Frank Lloyd Wright's Forgotten House: How an Omission Transformed the Architect's Legacy, in conversation with Catherine Boldt, Educational Outreach Docent at Taliesin.
ABOUT FRANK LLOYD WRIGHT'S FORGOTTEN HOUSE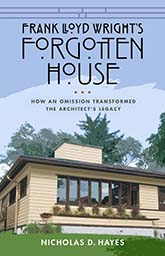 Frank Lloyd Wright's foray into affordable housing - the American System-Built Homes - is frequently overlooked. When Nicholas and Angela Hayes became stewards of one of them, they began to unearth evidence that revealed a one-hundred-year-old fiasco fueled by competing ambitions and conflicting visions that eventually gave way to Wright's most creative period.
ABOUT NICK HAYES
Nick Hayes leads innovation at a water technology company and is the author of Saving Sailing: The Story of Choices, Families, Time Commitments, and How We Can Create a Better Future.
This event is co-sponsored with Boswell Book Company and the Shorewood Historical Society. It will be held virtually via Zoom; please register HERE.