---
If you walk around the Village of Shorewood, you will see the name. The painting of Shorewood in Village Hall. The baseball field. The conference room in the Village Center. Spector.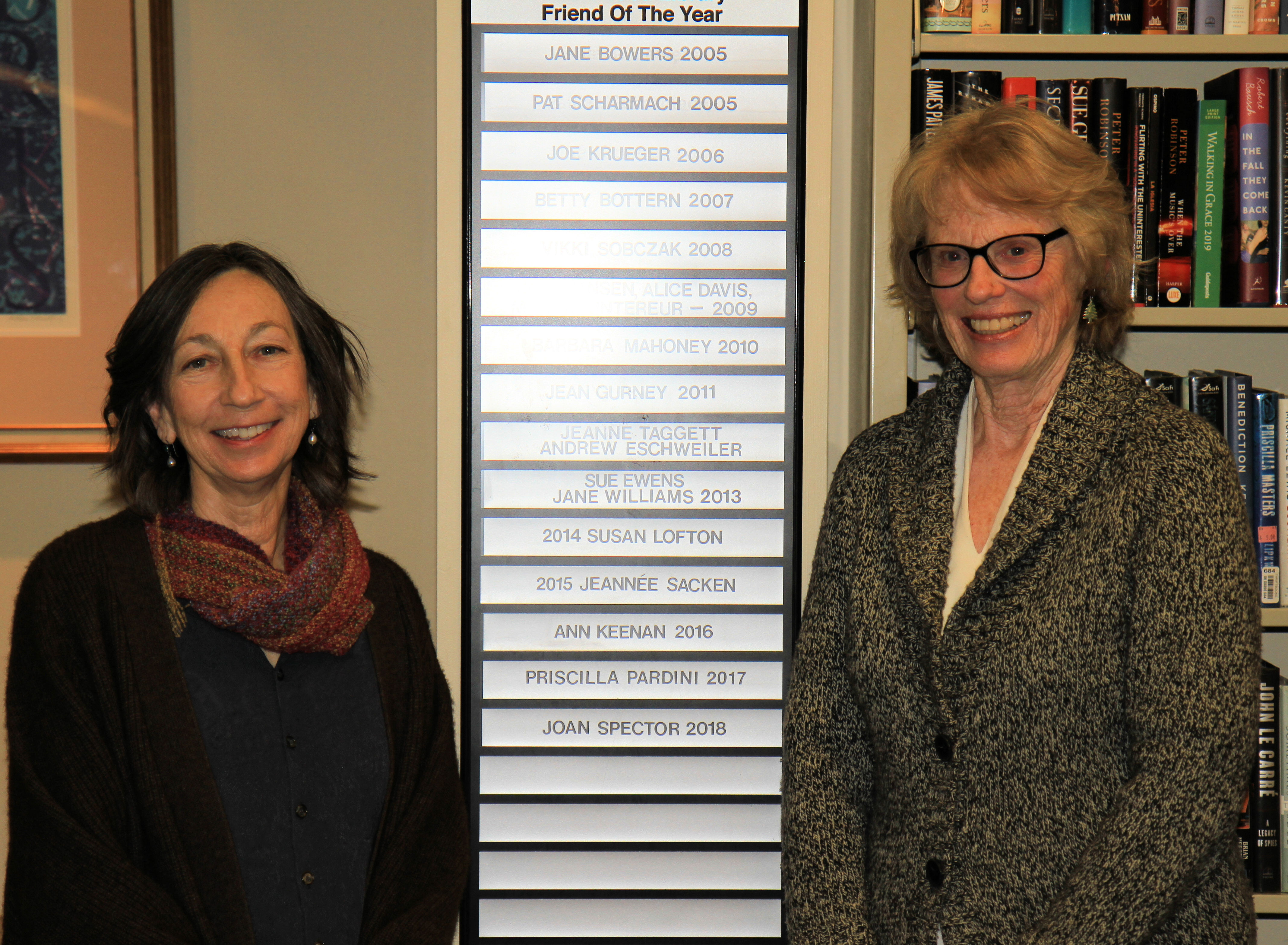 Joan Spector (right, pictured with departing Board member Candace Shoemaker, left) has been a driving force in our greater community for decades: Urban Ecology Center, Humane Society, Wisconsin Literacy Services, River Edge Nature Center, and election inspector - to name just a few of her volunteer roles. And, of course, the Shorewood Public Library. Not only did she and her husband, Mike, co-chair the fundraising campaign for the new library building, she joined the Board of the Friends of Shorewood Public Library on March 20, 2013 and hasn't stopped working since.
Almost as soon as she became a board member, she was drafted to be Vice President, running board meetings whenever the president cannot and taking minutes when the secretary is away. She worked with Priscilla and Susan to revise the Friends' By-Laws and agreed to chair the new Volunteering Committee, which she continues to do almost six years later. Not only does she train and supervise Adopt-A-Shelf volunteers, she recruits Friends to help with such library events as Summer Celebration and Dr. Seuss. And she works these events herself. I have a vivid image of Joan vacuuming the carpet in the Early Learning Center one Saturday evening after helping to dismantle the Good Nite, Moon diorama.
Joan has also hosted countless volunteer recognition events and luncheons. She has helped fellow Friends Board Director, Elizabeth Jonas, with staff recognition, making gorgeous valentines for the librarians and clerks. She has brought dinner to lengthy board meetings to nurture reasoned discussion and decision-making. A mantra she learned early in her years of community service: Feed them! And she worked tirelessly on the book selection for Shorewood Reads 2018 and chaired the hospitality committee. There is no job too big or too small. Joan always smiles, pitches in, and gets it done.
But I think her greatest contribution has been the wisdom, perspective, and humor she has brought and continues to bring to the board. Our Volunteer of the Year: Joan Spector.
In recognition of the honor, the Friends Board will place a tribute bookplate in a new library copy of Cry, the Beloved Country by Alan Paton.
-Contributed by Jeannee Sacken, Friends Board President
Share This: