---
I think any president of the Friends would agree that the Board of Directors' Annual Meeting, held in December, ranks high among our favorite activities. This is when we acknowledge the Volunteer of the Year. It's often a difficult selection to make because there are so many deserving individuals among the many Friends who volunteer their time to the library for such activities as Adopt-A-Shelf, fundraising, and Shorewood Reads.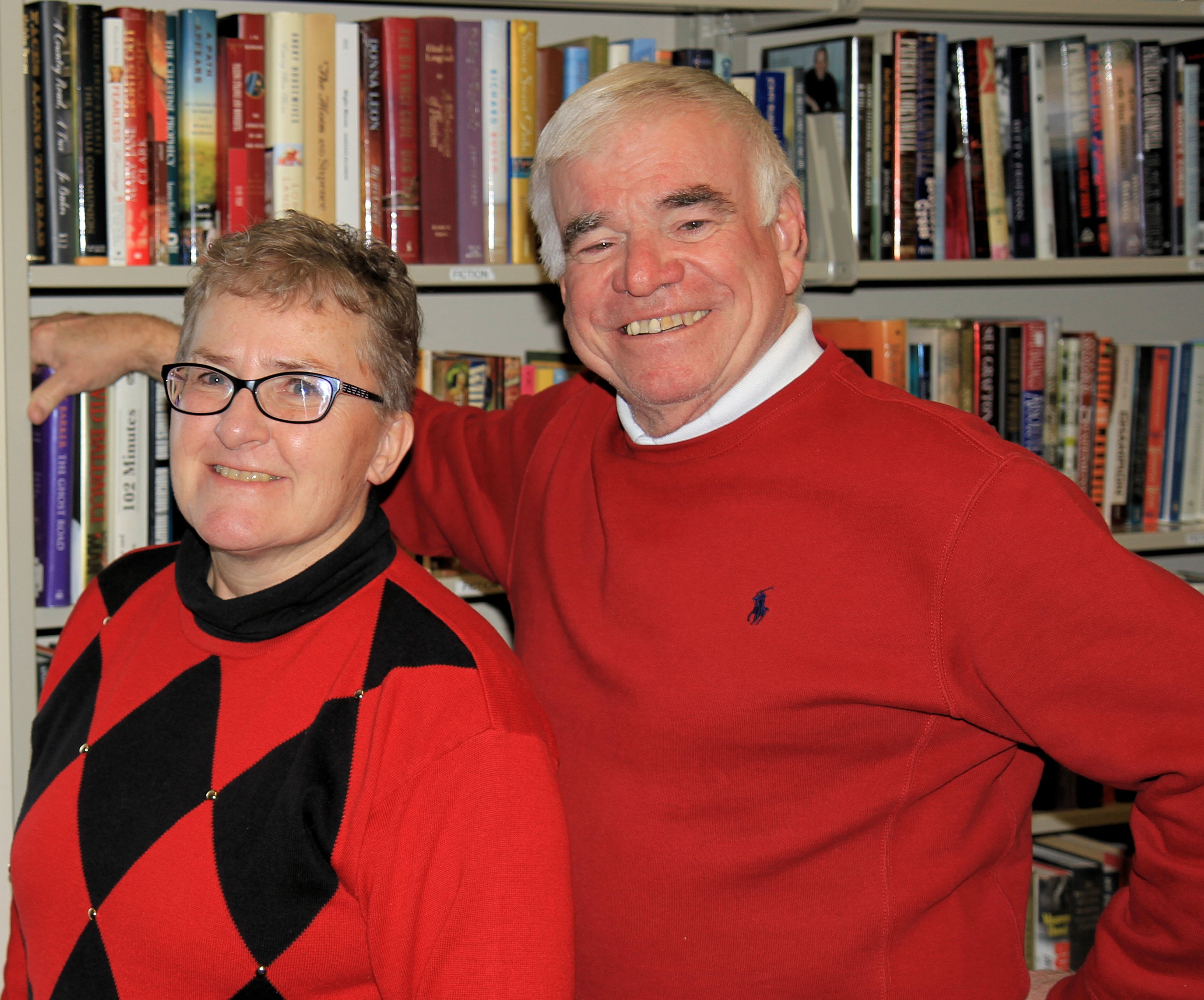 We were honored to name Kelly and Kathy Clark (pictured left) as the 2019 Volunteers of the Year. For almost seven years, they have assiduously sorted through the many bags and boxes of donated books that come to the library. Kathy scans each book for potential value, and Kelly lists those with higher value on eBay. Visit their home, and you'll see that they've actually turned one of their spare bedrooms into a storage and workroom for this endeavor. When a book is purchased from them on eBay, they ship it out immediately. This quick action and attention to customer satisfaction have earned them the rank of "Top Rated Sellers" on eBay. Their work over the past seven years has earned the Friends a stunning total of nearly $20,000 - money that enables the Friends to help the Shorewood Public Library enhance their programming for all ages as well as their collections, particularly Lucky Day Books. A little-known fact: once Lucky Day Books have finished their circulation life, they either find a home on the library shelves or Kathy and Kelly sell them on eBay, earning money to buy more Lucky Day Books. A wonderful example of recycling!
In addition to his work on eBay book sales, Kelly has sorted through the bureaucratic red tape required by PayPal, and now patrons of the in-library used book and media sales are able to make their purchases using a credit card. A real convenience!
For her part, Kathy also serves on the Friends Board of Directors, worked on the Reserve Fund Committee, and chairs the Nominating Committee to identify people willing to serve on the board.  
We on the Board are thankful to Kelly and Kathy Clark for all their work and grateful that they will be continuing their eBay book sales.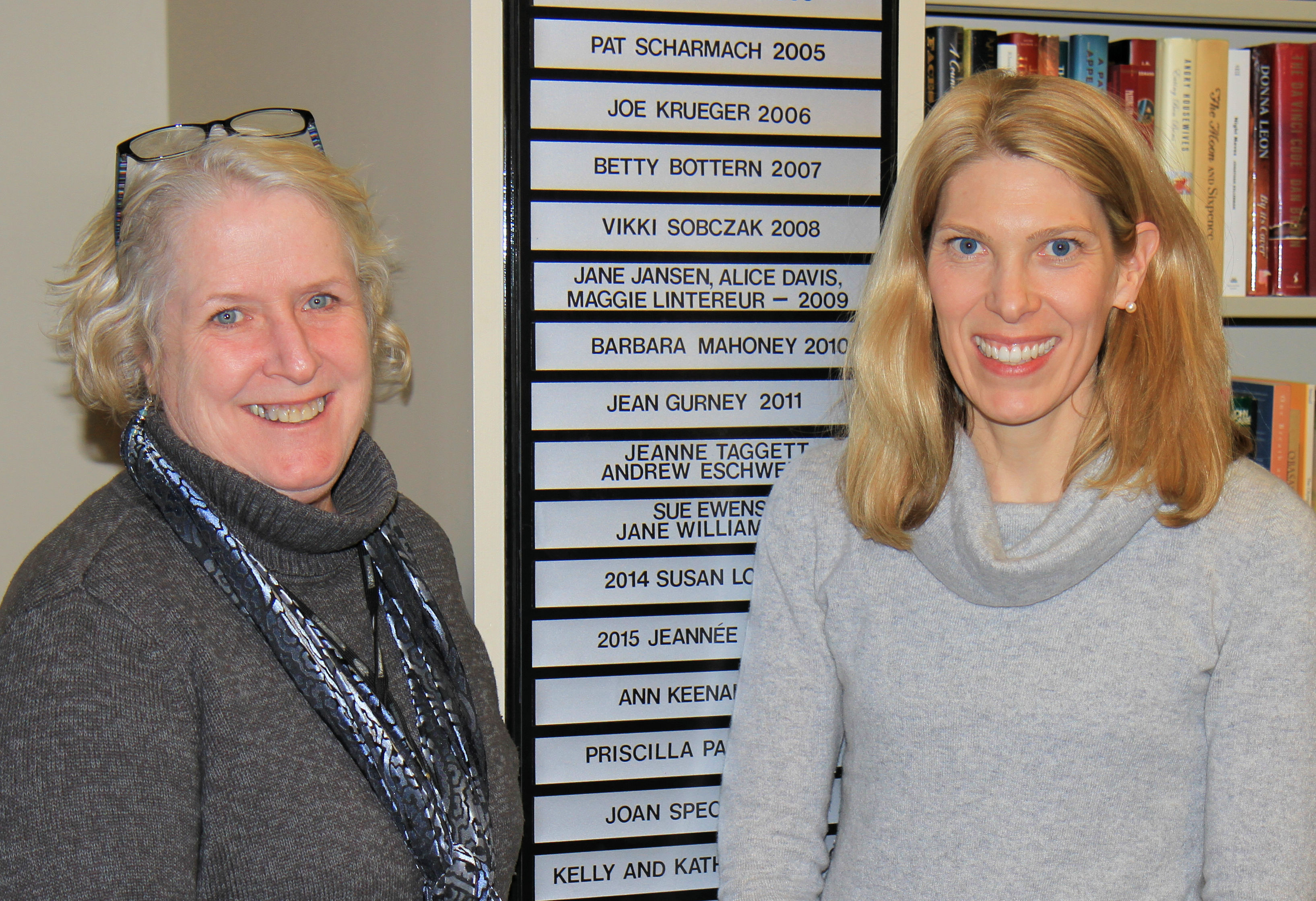 In addition to acknowledging the Clarks at the December Board meeting, the Friends said farewell to two board members (pictured left). Anne O'Meara (left) first served on the Library Board for six years and after stepping down from that citizen committee, agreed to serve on the Friends Board for another six years. She's the person who has devotedly written the Friends' blog for the past several years. She also worked on Shorewood Reads 2015 and 2018.
Jane Tomasi (right) was a member of the Friends Board for three years. During that time, she served as Secretary of the Board, worked on Shorewood Reads 2018, and co-chaired the Promotion and Fundraising Committee which raised over $2,400 in its inaugural year. She was the driving force behind the "I ♥ SHOREWOOD PUBLIC LIBRARY" yard signs you may have seen around town in October 2018 and 2019.
Both Anne O'Meara and Jane Tomasi served the Friends and the Shorewood Public Library with great devotion. They will be sorely missed, but we know their ♥s remain committed to our beloved library and its librarians!
- Submitted by Jeannee Sacken, Friends of the Shorewood Public Library President
Share This: