---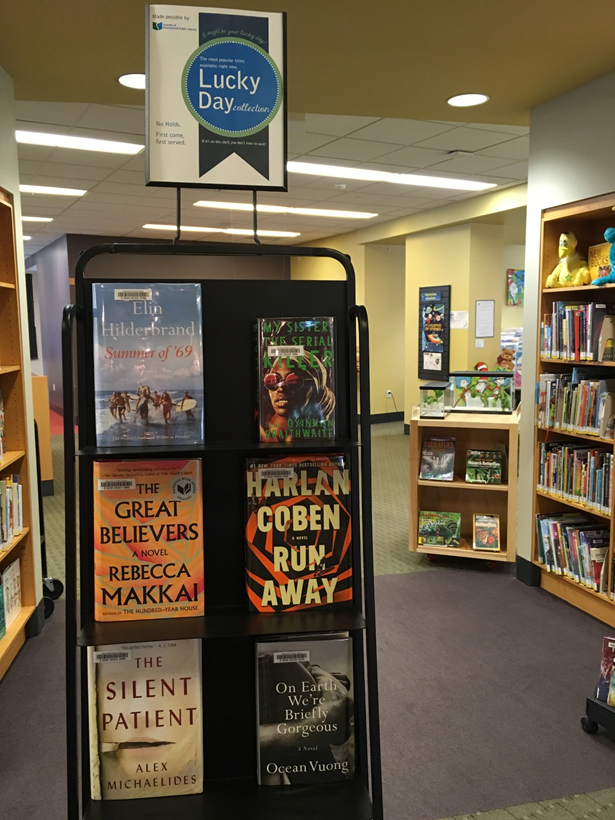 One of the first things you see when you walk into the Shorewood Public Library is the Lucky Day Collection. You'll find it when you enter through the library's front doors.
This dynamic collection of fiction and nonfiction titles is a first-come, first-serve selection that allows library visitors the chance to walk into the library and find a book that has a long waiting list. Books in the Lucky Day Collection cannot be placed on hold, so when you find and check out a book that you would normally have to wait weeks or months to get, it is your lucky day!
The Friends of the Shorewood Public Library have funded the Lucky Day Collection since 2014. The first year, the Friends provided a grant of $2,500. Now, in 2020, the Friends support for Lucky Day has increased to $4,000. With these funds, librarians purchase extra copies of the most popular titles. They research which books are most popular throughout Milwaukee County and those requested the most by Shorewood patrons. Then, they set up the Lucky Day books for in-person circulation only. Fiction titles can be checked out for a one week period, and non-fiction titles can be checked out for a three week period.
FUN FACTS:
There are approximately 200 books in the Lucky Day collection at any time.  This includes multiple copies of high-demand books. When requests for a specific title start to wane, it will be removed from Lucky Day and a new title will be added.
Circulation figures of Lucky Day books show that the collection is very popular.  In 2018, Lucky Day books were checked out over 2,500 times, and some are still circulating!
SOME CURRENT TITLES INCLUDE:
City of Girls by Elizabeth Gilbert
Eighty-nine-year-old Vivian recounts her life after being kicked out of Vassar College, living in Manhattan with her Aunt Peg and the personal mistake that resulted in a professional scandal.
Where the Crawdads Sing by Delia Owens
Kya Clark is the "Marsh Girl" of Barkley Cove on the North Carolina coast. Abandoned at age ten, she has survived on her own in the marsh that she calls home. A born naturalist, she took life lessons from the land, learning from the false signals of fireflies the real way of this world. Drawn to two young men from town who were intrigued by her wild beauty, Kya opened herself to a new and startling world-- until the unthinkable happens. When Chase Andrews is found dead, the locals immediately suspect Kya.
Educated: A Memoir by Tara Westover
A searing, unforgettable memoir about a young girl who, raised by Mormon survivalists in the mountains of Idaho and forbidden to go to school, defies her family and earns a PhD from Cambridge University.
Submitted by Anne O'Meara Stillwell
Share This: