---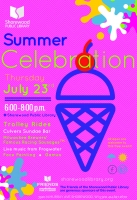 We all know summer is a season worth celebrating and nobody does it better than the Shorewood Library. Thursday, July 23, 6 – 8 p.m., we will host our 17th Annual Summer Celebration. You are invited to join hundreds of your friends and neighbors for an awesome evening filled with the best of summertime fun. All of our favorites are back – the Culvers' sundae bar, trolley rides, music of Frogwater, games, face painting, balloons, and more. Rumor has it the Sheriff's Department will be bringing some furry friends. This year, the Milwaukee Brewers Famous Racing Sausages will also be partying with us. Kids can even enter a drawing to races with the Sausages.
Even more good news – it's all free – thanks to the generosity of the Friends of the Shorewood Library. It takes a village to throw a bash this big so we want to thank our many community partners and volunteers – Culvers' of Shorewood, Nehring's Sendiks on Oakland, the Shorewood Woman's Club, local historian Sue Rebholz for planning and leading the trolley tours, the talented volunteer face painters and balloon artists, Teen Advisory Board volunteers, DPW, and the Police Department for helping us make it all happen. Of course, we want to thank you for coming out and making it the best party of the season. See you Thursday!
 We know Mother Nature can be a bit moody, so if she decides to rain on our parade – no worries. We will just move all the fun inside.
Share This: