---
Learn What's on Your Ballot
At the library: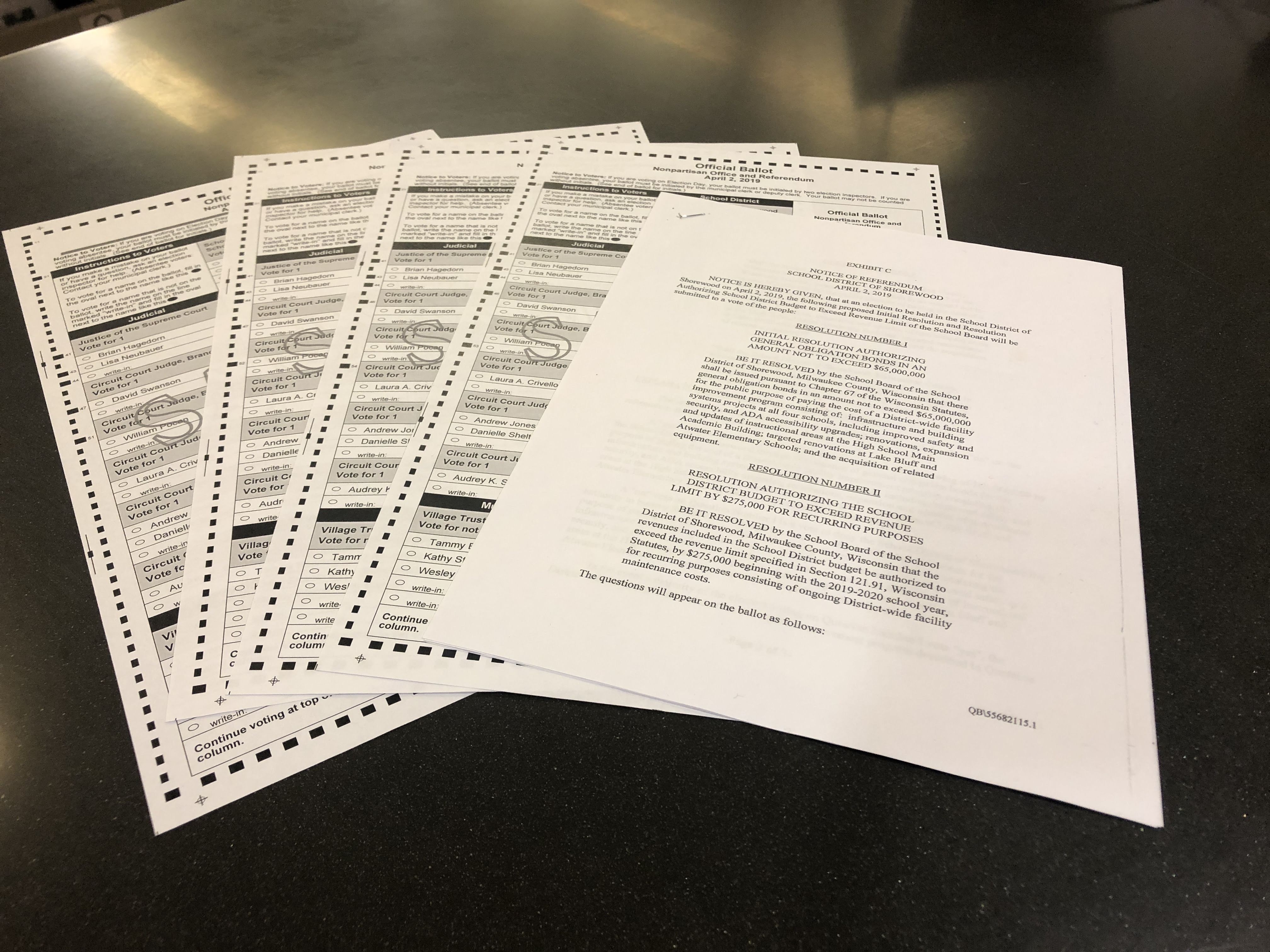 Shorewood voters can read over a sample ballot for Shorewood, available at the library's information desk. We also have the wording and explanation of the Shorewood School District Referendum from the Shorewood Village Clerk for your review. There are also Shorewood Village Trustee and Shorewood School Board positions on the ballot - your vote will make a difference in our community.
We don't have sample ballots for other municipalities, but can help you find out where to go to view one, or connect you to a computer and help you view online.
Online:
Head to MyVote Wisconsin to view your sample ballot, plus verify your polling place, your registration status, register online (with valid Wisconsin driver's license or Wisconsin Identification Card) and download an early/absentee ballot. A librarian can help you access MyVote Wisconsin online using a library computer, or show you how to access it on your personal device!
Register
Shorewood residents can go to Village Hall to register in person Monday-Friday, 8:00 a.m. - 4:30 p.m. by Friday, March 29
Residents of the City of Milwaukee can register at any City of Milwaukee Public Library. Find your nearest location on their website. You can also learn how to register from the City of Milwaukee Election Commission.
Register online at MyVote Wisconsin by Wednesday, March 20
Register in person at your polling place on election day!
Vote
Absentee: download your absentee ballot from MyVote Wisconsin and submit it by mail to your municipal clerk. Must be postmarked no later than 5:00 p.m. five days prior to the election (Friday, March 29)
Early: Shorewood residents can vote in person at Village Hall Monday-Friday, 8:00 a.m. - 4:30 p.m. until 4:30 p.m. on Friday, March 29. Milwaukee residents can click here to learn where and when to vote early in person.
On Election Day:

Shorewood residents vote at three locations:

Wards 1-4: Village Center, 3920 N Murray Ave.
Wards 5-8: Shorewood High School, 1701 E Capital Dr.
Wards 9-12: NEW POLLING PLACE! North Shore Presbyterian Church, 4048 N Bartlett Ave.

Residents of other municipalities can find their polling place at MyVote Wisconsin or by contacting your local clerk or election commission!
Complete election and voting information for Shorewood residents can be found on the Village of Shorewood clerk department webpage.
Keep the Spirit Going
Elections take place on a set day and time, but thinking and talking about the importance of voting does not have to. We're excited to present law professor Joshua Douglas to discuss his book Vote for Us: How to Take Back Our Elections and Change the Future of Voting on Thursday, April 4 at 6:30 p.m. in the Village Center. In his new book, Douglas, an expert on our electoral system, focuses on positive initiatives towards voter rights reform taking place at a local, state and federal level. We hope you vote on Tuesday, April 2, and then join us to talk about voting on Thursday, April 4.
The library is proud to support your ability to be an informed voter!
Share This: