---
It's time to get away!  Whether you're planning a trip or a staycation, we've have the books for you.  This month's non-fic picks showcase some of our new materials to help you get inspired for your summer travels:
Abroad at Home: The 600 Best International Travel Experiences in North America by National Geographic Books
Did you know that you can go on an African safari in San Antonio, Texas?  Or that visiting the Cahokia Mounds in Colinsville, Illinois is very similar to the earth architecture found in Mexico?  Maybe you can't make it to Switzerland, but the Bugaboo Range in British Columbia is a close second.  In fact, North America is so globally diverse both culturally and geographically that you can find top-notch travel experiences without the cost of international travel.  From Chinatowns to Little Italys, there's everything in between including Arab, Icelandic, and Serbian enclaves, and Abroad at Home will help you discover new experiences right in your neck of the woods.  And, with color photographs on each page, just flipping through this book is like a journey across the world.   
Around the World in 50 Years: My Adventure to Every Country on Earth by Albert Podell
How do you top the record for completing the longest automobile journey in the world?  Simple: travel to every country on Earth.  There are 50 countries in Europe, 48 in Asia, and 26 in Latin America plus many more leaving a grand total of 196.  Podell takes 72 separate journeys and travels more than a million miles to eat ice cream in the Sahara Desert, to fall into raw sewage in Africa, and to pan for gold in Senegal.  Through riots, detours, accidents, misunderstandings, etc., Podell has found joy in experiencing breathtaking landscapes as well as the frustration of a changing climate.  Told like a true travelogue, Around the World in 50 Years offers anecdotes and advice to take you to places we might not otherwise be able to go to.    
The Milwaukee Bucket List: 101 Real Milwaukee Adventures by Barbara Ali
Beer.  Sausages.  And baseball.  That's primarily what Milwaukee seems to be recognized for, but there's so much more!  Photographer, adventurer, and mom, Barbara Ali, offers 101 adventures for locals and tourists alike including historical sites like the Pabst Mansion and Saint Joan of Arc Chapel; cultural experiences such as ethnic festivals and the Milwaukee Film Festival; outdoor activities such as Boerner Botanical Gardens and the Hank Aaron Trail; and delicious treats to taste like fair food at the Wisconsin State Fair and authentic Milwaukee chocolate from a number of confectionaries.  Quick, handy, and easy to use, The Milwaukee Bucket List is perfect for locals for looking for something to do as well as for visitors looking to broaden their experiences here in the Cream City.    
And be sure to stop in to check out our travel display so you can start making your own plans to getaway!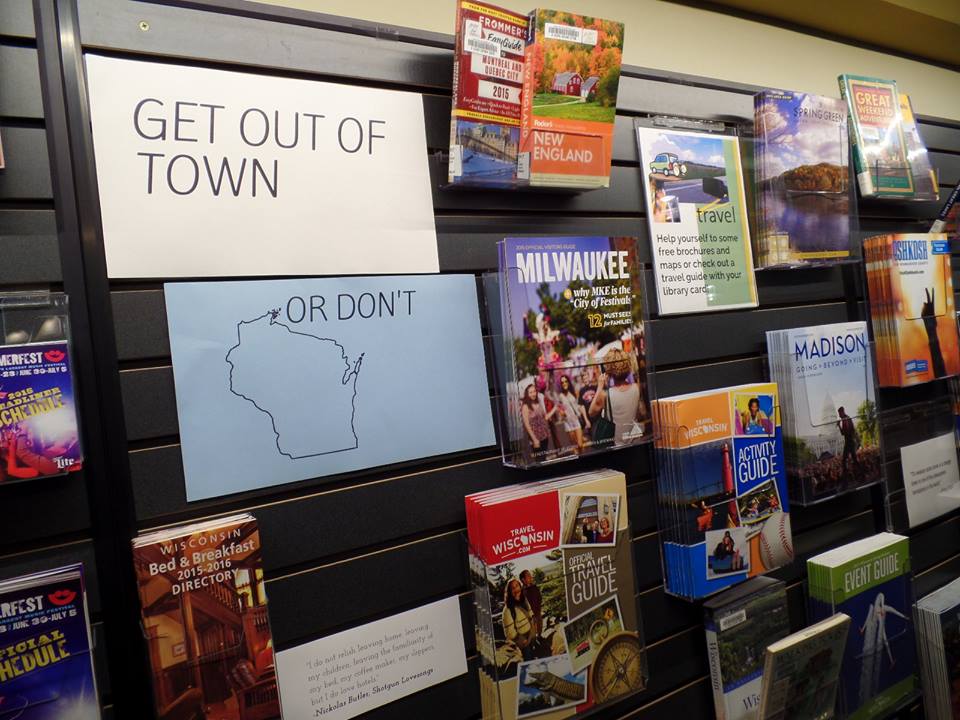 Share This: